Caravan and trailer towing training courses and tests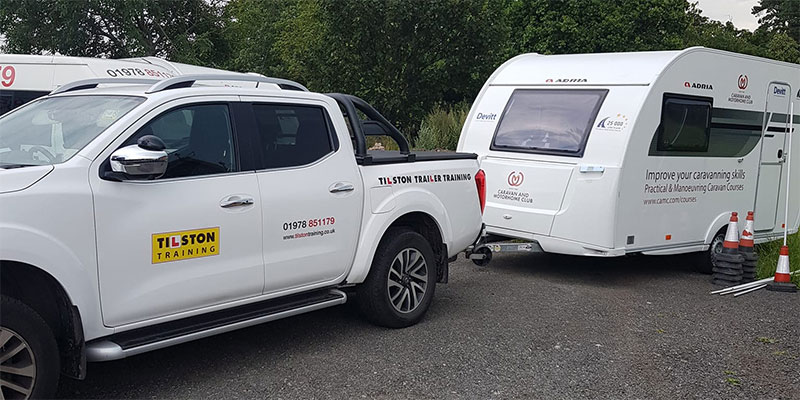 We are the only Caravan Club training centre in North Wales
If the Caravan Club can trust us with training their valued Club members then we are sure you can trust us too!
Whether you need the B+E category adding to your current driving license so that you can tow a caravan or a trailer, or if you just require a little additional training to give you a little more confidence when you're towing your caravan, we have a training course that will suit you.
We have years of experience in getting people through their various driving test's, so you can rely on us to get you through your trailer and caravan B+E towing tests quickly and at a high standard. We really do pride ourselves on our exceptional pass rates and the fact that we do endeavour to get you through successfully within the shortest time scale possible, saving you money on the course and also on time from work.
Our driving instructors are friendly, patient and very reliable. They are trained to the highest standard and are all fully qualified, CRB checked and registered Advanced Driving Instructors. In addition, they have years of experience in towing trailers and caravans. We provide trailer and caravan towing training lessons across Wrexham, Mold, Deeside, Cheshire, Shropshire, Wirral, Flint, Denbigh, Holywell and the surrounding areas.
We are based just 1/4 of a mile from the Wrexham LGV test centre in Llay.
Do you need a B+E car and trailer test to tow your caravan?
A vehicle up to 3.5 tonnes MAM (maximum authorised mass) towing a trailer up to 750kgs, or a vehicle and trailer combination up to 3.5 tonnes MAM providing the MAM of the trailer doesn't exceed the unladen mass of the towing vehicle.
You will need to pass an additional driving test in B+E if you wish to tow a caravan or trailer combination which exceeds these weight limits.
If the conditions aren't met exactly it can result in the driver being unlicensed and uninsured which could carry a maximum of 9 penalty points and a fine of up to £1000, and in some cases maybe even a ban.
For more details please feel free to call us 01978 851179.
Caravan and trailer towing B+E courses
If you require a B+E test so that you can tow a caravan then please see our trailer towing page for details of courses.
Otherwise if it is just additional training you require then please see our courses below.
On road training
This will cover safe hitching and unhitching procedures along with all aspects of on road training one to one from a qualified driving instructor. We will cover town driving, country lane driving, dual carriageway and a mixture of various roundabouts and junctions.
Off road training
This will cover safe hitching and unhitching procedures along with straight-line reversing and reversing into a mock caravan pitch to the right and left. You will be given all the basic principles both theory and practical then plenty of time to practice with a very patient instructor on hand to prompt and advise at all times.
1/2 day course
This will cover all of the above in one session, including advice, demonstration and practical training on all aspects of caravanning.
We train you using your own tow vehicle which you are familiar with along with one of our caravans.
If you haven't yet got a suitable tow vehicle then we can supply one for the training.
What we cover on the Caravan towing course
Un-hitching and re-hitching practices
Loading practices, weight distribution etc
Levelling
Towing on road
Reversing - straight line, offside and nearside onto a mock caravan pitch
Please note if you wish to book onto one of the Caravan Club's training courses then please go to their website and select the Clwyd - Tilston School Of Motoring training centre.
Reversing a caravan
Tilston School of Motoring offer B+E trailer and caravan towing training courses in Wrexham, with and clients from Chester, Mold, Deeside, Cheshire, Nantwich, Whitchurch, Tarporley, Tattenhall, Sandbach, Crewe, Cheadle, Manchester, Warrington, Shropshire, Telford, Shrewsbury, Oswestry, Wirral, Runcorn, Rhyl, Mostyn, Holywell, Denbigh, Flint, Ruthin, Corwen have passed trailer and caravan tests with us. Lessons are with a fully qualified Advanced Driving Instructor.
We look forward to hearing from you soon.
Enquire about trailer and caravan B+E towing training