Trailer & caravan B+E towing training & tests
Whether you need the B+E category adding to your current driving license so you can tow a trailer or caravan, or if you just require a little additional training to give you a little more confidence when you're towing a horse box or caravan, we have a training course that will suit you.
We have years of experience in getting people through their various driving tests, so you can rely on us to get you through your trailer and caravan towing tests quickly and to a very high standard. We really do pride ourselves on our exceptional pass rates and the fact that we do endeavour to get you through successfully within the shortest time scale possible, saving you money on the course and also on time from work.
Our driving instructors are friendly, patient and very reliable. They are trained to the highest standard and are all fully qualified, CRB checked and registered Approved Driving Instructors. In addition, they have years of experience in towing trailers and caravans. We're based in Llay, Wrexham provide trailer and caravan towing training across Wrexham, Mold, Deeside, Cheshire, Shropshire, Flint, Holywell, Denbigh, Warrington and the surrounding areas.
We now have our own DVSA approved customer test centre open.
So where you learn is where you are tested!
We are also based just 1/4 of a mile from the Wrexham LGV test centre in Llay. See the map on our contact page for more details.
About the caravan and trailer towing training course
Do you need a B+E car and trailer test? If you passed a car test on or after 1 January 1997 you're limited to:
A vehicle up to 3.5 tonnes MAM (maximum authorised mass) towing a trailer up to 750kgs
or a vehicle and trailer combination up to 3.5 tonnes MAM providing the MAM of the trailer doesn't exceed the unladen mass of the towing vehicle
You will need to pass an additional driving test to have the category B+E on your driving license if you wish to tow a caravan or trailer combination which exceeds these weight limits.
If the conditions aren't met exactly it can result in the driver being unlicensed and uninsured which could carry a maximum of 9 penalty points and a fine of up to £1000, and in some cases maybe even a ban.
For more details please feel free to call us 01978 851179 or email info@tilstontraining.co.uk
Trailer training and caravan towing courses
Some trailer training providers will recommend 3, 4 or even up to 5 day courses. Whereas we are confident that we can get most candidates with very little towing experience through the B+E towing test successfully within a day and a half course, with candidates who are more experienced and confident in towing in just one day, providing their general driving ability is of a good standard. The reason we are so confident is that your training is provided by grade A DVSA approved instructors, who are up to date with all the latest DVSA regulations and requirements. We are also approved Caravan Club instructors. One of the other main factors is that we now have our very own DVSA approved test centre. So your test now takes place in the very relaxed setting where you have been trained. A lot of trailer training companies conduct towing training courses where they are based, but then you have to travel miles to the nearest DVSA test centre to take your trailer test, which can be totally unfamiliar to you.
1 hour assessment
This will consist of 1 hour to assess your general drive whilst towing and your reversing ability. The reversing will take place at our own test centre so exactly where you will be reversing on the actual test. From the outcome of the assessment we will jointly agree on a suitable course for your needs to give you the best possible chance of passing your trailer test first time!
1 Day course
This course is designed for someone who has previous experience and who is confident with reversing a trailer and who showed a good standard of drive on the assessment, with only a few driving faults "bad habits" to sort out. The training course would conclude with the actual B+E trailer test at the end of the day. A lot of people prefer to split this course over two half days, with exceptional results.
Day and a half course
This course is designed for someone who has only limited experience in towing and reversing trailers and caravans, or someone who had a number of driving faults "bad habits" on the assessment. This course would be a full day of trailer training followed the next day by the half day which would conclude with the actual B+E trailer test.
Obviously, we do offer additional half day sessions for candidates who may have really struggled with any aspect on the assessment.
Each course will cover all aspects of the B+E trailer test including:
The reversing exercise
The coupling and uncoupling process
All aspects of the trailer safety
All manoeuvres will be carried out at our off road driver training facility. This is the same place as all tests are carried out. Clients find the experience of taking their B+E trailer test in the same place as undertaking trailer and caravan towing course to be less stressful and our consistently high pass rates prove this.
Examples of maneouvres you will carry out on your trailer or caravan B+E test
Reversing a trailer
Hitching a trailer
We do try to be as flexible as possible to fit around your needs.
Vehicle safety questions on your B+E trailer test
As part of your category B+E (car and trailer) driving test, you will be asked vehicle safety questions. The questions will be in a 'show me, tell me' format and will be taken from this list.
Our trailer and caravan towing courses are priced competitively and also include the use of our towing vehicles along with our Ivor Williams box trailers. On booking a course you will be supplied with training material to aide you in passing your B+E trailer test and with towing in general.
The cost of the actual DSA B+E trailer test is currently £115.
Tilston School of Motoring are based in Llay, Wrexham and offer B+E trailer training and caravan towing training courses, and the trailer tests, in Wrexham, with clients from, North Wales, North West, Chester, Mold, Deeside, Cheshire, Dudley, Ludlow, Wolverhampton, Nantwich, Whitchurch, Tarporley, Tattenhall, Sandbach, Crewe, Cheadle, Manchester, Warrington, Shropshire, Telford, Shrewsbury, Oswestry, Wirral, Runcorn, Liverpool, Prestatyn, Rhyl, Derby, Widnes, Colwyn Bay, Flint, Holywell, Mostyn, Denbigh, Connah's Quay, Corwen, Ruthin, Ellesmere Port, Reaseheath, Knutsford, Frodsham, Flintshire, Llandudno, Birkenhead, Malpas, Northwich and Windsford and have taken trailer towing and caravan towing training courses and the passed the trailer test with us. Lessons are overseen by grade A fully qualified DVSA Approved Driving Instructors.
Enquire about trailer and caravan B+E towing training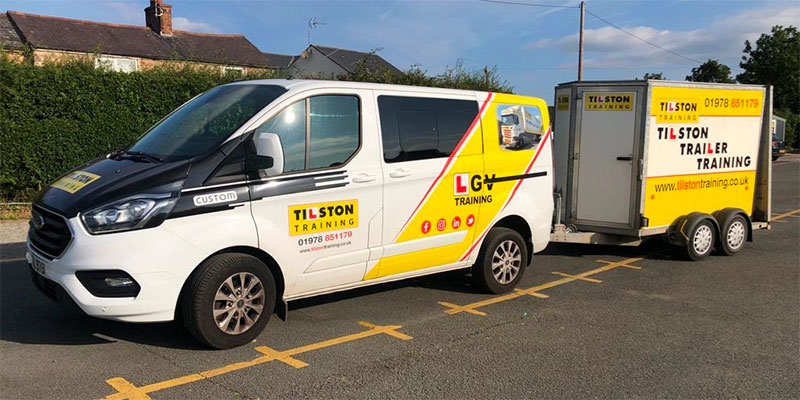 We are now an approved DVSA customer test centre - so you can sit your test in the familiar surroundings where you train
Pay for your B+E trailer course